A Look Inside Oddfellow's Playhouse & Their Partnership with The Teaching Artist Hub CT
Connecticut Arts Alliance continues a series of posts spotlighting our members. 
___________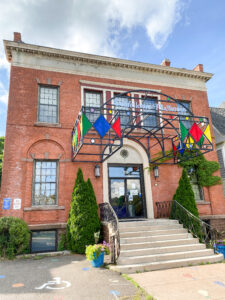 Just one block off Main Street in downtown Middletown sits a little brick house with colorful letters affectionally known as Oddfellow's Playhouse  – a community-based, multicultural children's theater. Their mission – enhance young people's present and inspire their future through engaging, accessible performing arts programming that builds skills, encourages creativity, and strengthens community. The quirky little lightbulbs painted on the sidewalk leading up to the front steps of Oddfellow's are only a glimpse of the magic that happens inside.
We recently had a chance to sit down with Dic Wheeler, Executive Artistic Director of Oddfellow's, to learn more about the theater and what makes it such a special place. Dic returned to Oddfellow's in 2018 after over 20 years with the theatre earlier in his career. His return to the program after 12 years elsewhere really speaks to one theme that stuck out in our conversation – he truly and passionately believes in what they are doing and why they are doing it.
Dic emphasized the importance of creating a safe space for kids in the Middletown area who might not feel at home elsewhere. They offer programs for kids starting as early as age 3 through age 20, including an after school Oddbridge program partnered directly with the local school district. Students take the bus from school to Oddfellow's where they receive a snack and homework help before their arts classes begin. Further, through their Promise of Inclusion, Oddfellow's commits to ensuring that all voices, young and old, are heard through the playhouse storytelling and that they will always continue to try to do better when it comes to dismantling systems of inequality. You can read more about the Promise of Inclusion at Oddfellow's here.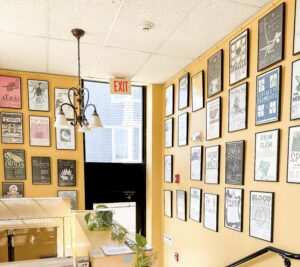 As Dic returned to Oddfellow's and took over the role of Executive Artistic Director, he realized that while wearing many hats would always be part of his job description, he did need some help. Enter, Lanea Collins. She has been involved at Oddfellow's for many years with her own children and formed a connection with Dic. Through this relationship, The Teaching Artist Hub CT was born to "connect and support teaching artists and aspiring teaching artists throughout Connecticut." Lanea, Creative Director of The Teaching Artist Hub, joined us in the conversation.
Through the partnership with Oddfellow's and Connecticut Office of the Arts, The Teaching Artist Hub has been a further extension of community building among the arts sector. They offer classes, workshops, mentorship, and other professional development resources for teaching artists across our state. Throughout the pandemic, The Teaching Artist Hub hosted regular 'Coffee with Creatives' Zoom sessions for participants across the state. Lanea spoke about how formative it was for the community to get together in these ways. It brought people together who might not necessarily have been able to connect before. These informal virtual coffee hours became such a hit that Coffee with Creatives is still a monthly fixture on the Teaching Artist Hub calendar today.
Connecticut Arts Alliance is pleased to have Oddfellow's Playhouse and The Teaching Artist Hub CT as members of our statewide arts community! 
To learn more about Oddfellow's and see their latest happenings, click here.
To learn more about The Teaching Artist Hub CT, click here.