Connect with Candidates in your area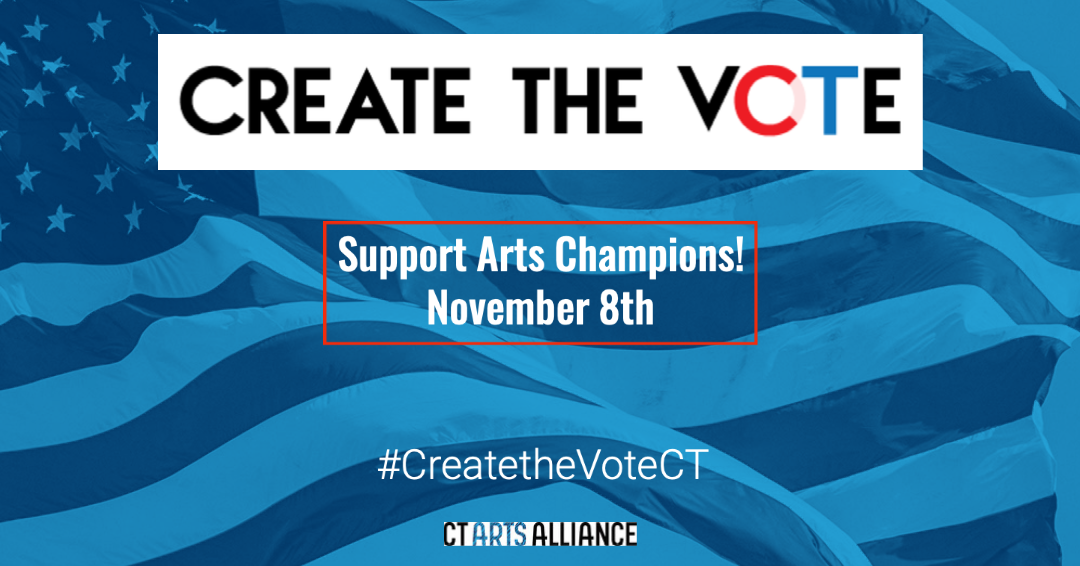 A statewide series of virtual candidate forums hosted by the CT Arts Alliance and our regional partners
If we want the arts to thrive, we need to support arts champions!
The candidates we support this November will be legislators making decisions about budget priorities in 2023 and they'll be the ones who will support policies that benefit the arts community. If we want the arts to be a priority, then we need arts champions!
We're working with our regional partners to organize five moderated forums so that you can hear from candidates firsthand and question them on arts issues you care about. Be sure to join #CreatetheVoteCT for updates on details and registration information!
Greater Hartford and New Haven
Hosted by Arts Council of Greater New Haven and Greater Hartford Arts Council
Tuesday, October 4th, 2 PM
Moderated by: Adriane Jefferson; Director of Cultural Affairs; New Haven Department of Arts Culture and Tourism & T'challa Williams; author, poet, performer
Watch the replay here: https://www.youtube.com/watch79bD36
Fairfield County
Hosted by Cultural Alliance of Fairfield County
Date: Thursday, October 6th, 5 PM
Moderated by: Steve DiCostanzo, General Manager of WPKN, Bridgeport
Watch the replay here: https://youtu.be/JEGK2um-VIA
Eastern Connecticut and Shoreline
Hosted by Cultural Coalition and Shoreline Arts Alliance
Tuesday, October 11th at 12 Noon
Watch the replay here: https://fb.watch/g5jJqZaexF/
Litchfield Hills and Waterbury Region
Hosted by Northwest Connecticut Arts Council and Arts & Culture Collaborative, Waterbury Region
Thursday, October 13th, 2 PM
Moderated by: Anne Karolyi, Managing Editor, Republican-American Newspaper
Watch the replay here: https://youtu.be/Dytu5Fl-MvY
Western Connecticut
Hosted by Cultural Alliance of Western CT
Thursday, October 13th, 2 PM
Moderated by: Cybele Malone, Executive Director, The Aldrich Contemporary Art Museum
Watch the replay here: https://www.youtube.com/7zm8tLC8zyE